We help you grow, by serving your customers
Paying a bill, never easier
Electricity Bills
Universities
Online Services
Online Games
Installments
Gas Bills
Tourism
Syndicates
Donations
Cinema Tickets
Transportation
Mobile Recharge
DSL Bills
Airlines
Water Bills
Mobile Payment
Bee Cards
Schools
Landline Bills
Mobile eVoucher
Mortgage Finance
Stock Exchange
Clubs
Cable TV
Bee introduces a wide portfolio of different, diversified services to suit all needs and all ages. Bee is the place to go to…recharging your mobile; paying all your bills; shopping online; buying insurance…you think of it, it's there!
Our Achivements
Over The Years
Bee offers you the opportunity to become a Bee agent, all you need is your tax registration, commercial registration and your ID, and you will become a Bee agent. Just call us anytime at 16233, and one of Bee call center will take your data and you will get a visit shortly after by one of our sales reps.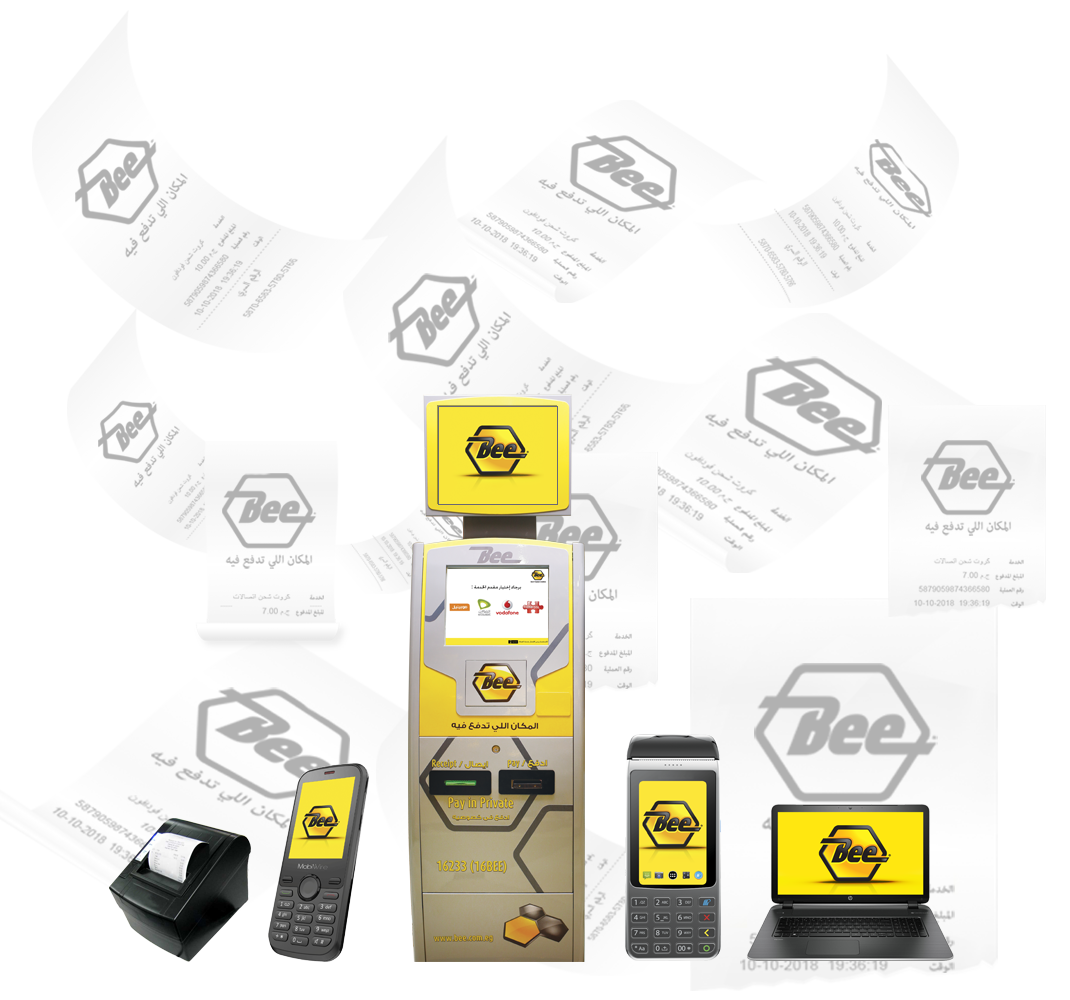 Bee has a diversified multitude of offerings for channels that covers every style and need.
From establishing your own payment solution company where Bee will act as a system vendor till a standalone retail outlet in a remote area.
When you contact us, you'll always talk to real, in-house friendly humans. All Customer Care Advisors work from our headquarters in Cairo, Egypt.
Call Us Now
16233 (16BEE)
Phone: +2 0225976404
Fax: +2 0227508894
Send A Massage
info@bee.com.eg
sales@bee.com.eg
support@bee.com.eg
Nationwide Offices
Alex – El Nakl and El Handsa St, Terrace Smouha Building E, Apartment 103, behind Smouha Club, Smouha , Alexandria
Delta – Floor 1, Flat 1, 99 Ebn El Fared St. with Haroun El Rashedy St, Tanta
Cairo – Flat No. 1, in Building No. 3, Khaled Bin Al Waleed Str, off 262 Street Maadi, Cairo
Giza – Building No 3, Flat 103, Doret El Fadl St., Extesion From Mahmoud Haredy Al Mohawelat St, Mahatet Al Matbaa Haram, Giza
Assuit – Floor 5, Flat 5, Al Malk Tower, El Nasr ST, Taksem El Petrole, Assuit
Luxor – Floor 1, Flat 2, Pizza Tower Home, Television St, Luxor